Diving deep into the realms of computational drug repurposing, Delta4 leveraged its state-of-the-art Hyper-C platform with an ambitious objective: to comprehensively understand and broaden the applications of the anti-inflammatory compound iguratimod.
At the heart of this project was the creation of a molecular Mechanism of Action (MoA) model. This intricate model was meticulously constructed around iguratimod's four primary drug targets, encapsulating a network of 130 proteins, playing pivotal roles in processes such as inflammation, T-cell activation, and oxidative stress.
With a robust MoA model in hand, Delta4 embarked on a mission to chart the 'known' disease space for iguratimod, identifying 262 diseases and indications that held direct annotations with this compound. But the exploration didn't stop there. Using the MoA model as a beacon, the team computationally sifted through Delta4's vast phenotype library, encompassing more than 3,400 unique disease phenotypes. This exhaustive screen aimed to discern diseases that could be modulated by iguratimod, looking specifically for overlaps between the drug's MoA and disease pathophysiology.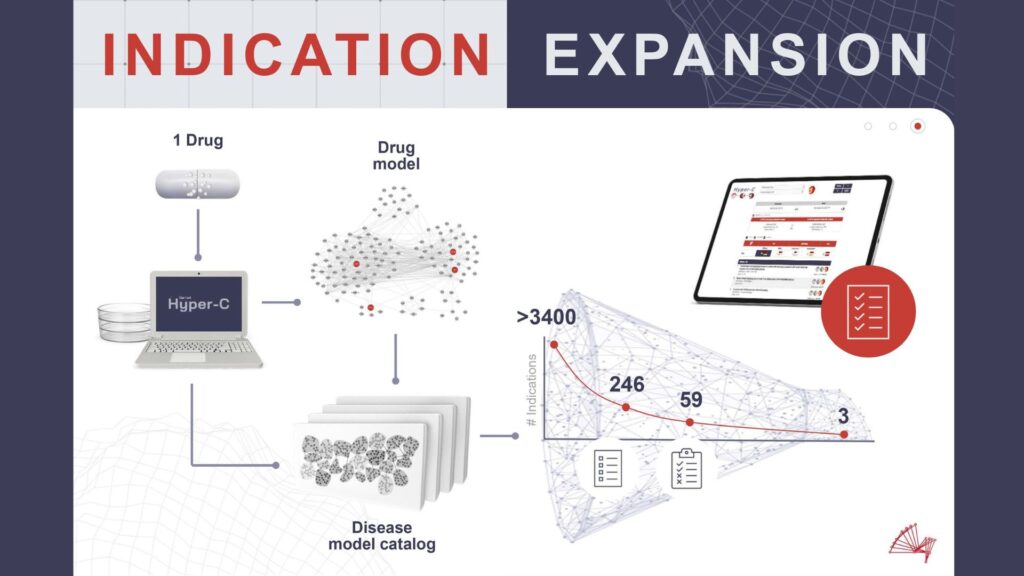 The results were profoundly illuminating. While rheumatoid arthritis, an already approved indication for iguratimod, solidified its prominence, the analysis also unveiled 59 "novel" indications. Among these were potential applications in areas as diverse as respiratory tract diseases, urogenital disorders, eye conditions, and even infectious inflammatory diseases. One notable mention from this list was endometriosis, which showcased the intricate and detailed analysis process of Delta4's platform.
This captivating endeavor not only underscores the versatility of iguratimod but also stands testament to the capabilities of Delta4's Hyper-C platform in redefining drug applications.
We invite you to watch our video to journey through this discovery process. For those with an appetite for detailed insights, our comprehensive report, detailing every step of the project, its methodologies, and results, is available for download.